Conferences
12th International Conference "Stability, Control and Rigid Bodies Dynamics" Donetsk (Ukraine), June 4-8, 2014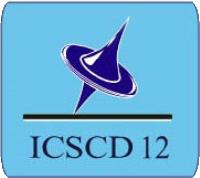 04.06.2014 – 08.06.2014
Information is taken up – 14.03.2014
Information has not been adopted
Institute of Applied Mathematics and Mechanics of National Academy of Sciences of Ukraine (IAMM NASU) together with Donetsk National University (DonNU) organizes the 12th International Conference «Stability, Control and Rigid Bodies Dynamics» in Donetsk in June, 2014. The Chairman of the Organizing Committee is Alexander M. Kovalev (IAMM NASU, kovalev@iamm.ac.donetsk.ua).


Conference Topics
The main scientific topics of the Conference are:
1.  Stability Theory
2.  Control in Dynamical Systems
3.  Dynamics of Rigid Body and Celestial Mechanics
4.  Applied Problems of Rigid Body Dynamics 
Scientific Program
The Scientific Program of the Conference includes:
•   45-minute  plenary lectures
•   30-minute section lectures
•   brief presentations either in the form of 15-minute section communications  or during the poster session 
Conference Languages 
Official languages of the Conference are English, Ukrainian and Russian.
Publications
Participants of the Conference  will be given  its  Program and  the  Book of  Abstracts. The rules for preparing of Abstracts will be placed in the Second Announcement.
After finishing of the Conference, the authors of the accepted papers may present their works for publishing in the collections of scientific papers "Mechanics of Rigid Bodies", and "Proceedings of the Institute of Applied Mathematics and Mechanics " (IAMM NASU), "Donetsk University Bulletin" (DonNU).
Place and period of the Conference 
The Conference will take place in the boarding-house "Nauka" of Donetsk National University on Azov sea coast. 
The Conference is planning to be held in the period from  June 4 to 8, 2014. Definitive dates will be communicated in the Second Announcement.
Registration 
If you are interested to take part in  the Conference, please, fill out the application form included in this announcement and send it to ICSCD'12 secretary by e-mail icscd.donetsk@gmail.com
APPLICATION FORM
Family name:
First name, second name:
Title (Prof., Dr., etc.)
Affiliation:
Position:
Mailing address:
Phone:
E-mail:
Type of contribution  (plenary lecture, section lecture, 15-minute  verbal contribution, poster):
Preliminary title of contribution:
Number of the Section (0 for plenary lectures)
Files
The history of conferences (pdf) 
ADDRESSES 
Ordinary mail:    B.I. Konosevich
                              Institute of Applied Mathematics & Mechanics of NASU
                              Street R. Luxemburg  74
                              Donetsk, Ukraine
                              83114
PROGRAM COMMITTEE

A.M. Kovalev, A.D. Bruno, F.L. Chernous'ko, A.M.Formal'sky, A.L. Fradkov,
G.V. Gorr, M.P. Kharlamov, K.R. Kozlowski, G.A. Leonov, D.D. Leshchenko,
A.P. Markeev, Yu.V. Mikhlin, V.A. Samsonov, O. Sawodny, H.M. Yehia   
ORGANIZING COMMITTEE

A.M. Kovalev (chairman), I.N. Gashenenko, A.L. Zuyev, B.I. Konosevich, T.N. Astakhova,
G.V. Gorr, Yu.N. Kononov, M.E. Lesina, A.V. Maznev, G.V. Mozalevskaya, V.N. Nespirnyy,
V.E. Puzyrev, V.I. Storozhev, S.N. Sudakov, V.F. Shcherbak, O.S. Volkova